Who's behind the non-profit Industriekultur-CNCI? Let us introduce you to our small and dynamic team.
Today it is the turn of our Project Manager, Laurie Kremer. Laurie is responsible for the coordination our projects, which has recently included its exhibition MinettREMIX for the European Capital of Culture Esch2022, the association's external communication and administrative tasks.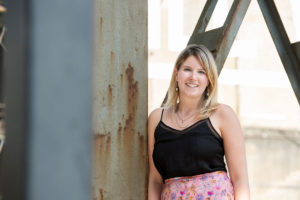 What led you to work in the industrial heritage field?
My interest in local history! My first contact with industrial heritage was in 2011, when I helped develop a marketing strategy for a former weaving mill in England during my student job. Fast forward 9 years later, I spotted the job at the IK-CNCI which I thought would be the perfect match.
What's the most exciting part of your job?
Making connections with partners, discovering new things about my local history, and the freedom to develop new ideas.
What's your favourite music to work to?
Depends on what I'm working on Electronic music motivates me but folk, soul or jazz is good for when I need to concentrate.
What's your favourite Minett landmark?
Talking about music…I love the Kulturfabrik. Everything from its history to its reappropriation, which shaped the creative and experimental space that is today.
Coffee or tea?
I'm half English, so I have to say tea! Everyone who knows me well, knows that I have the kettle on every hour.
Do you have a hidden talent?
What goes well with tea? Biscuits! I love baking, I usually make a gingerbread house every year for Christmas. My colleagues and I have also started a tradition of making industrial shaped cookies for our partners and the press.
What's the favourite place you've travelled to?
New Zealand. They have the most amazing landscapes I've ever seen in my life.
What are your hopes for the IK-CNCI in the future?
I'd love to see the IK-CNCI grow into an institution that is recognised on a national level and as well as an established collaborative network that connects a diverse range of national and international partners.