The majority of our partners sites which are part of the Centre national de la culture industrielle network rely heavily on the work of motivated volunteers. We want to celebrate these amazing volunteers who go above and beyond to support industrial  heritage and are committed to the practical upkeep of these sites, museums and associations for future generations.
This time we had a chat with Joëlle Pizzaferri.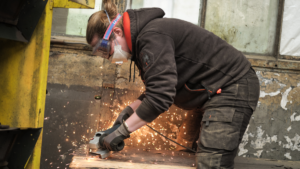 I volunteer at:
FerroForum asbl
The thing I most enjoy:
The cohesion and friendliness of a team united by a shared passion, to bring a project to life, to make it last, and to share experiences.
The thing that interests me the most about industrial heritage and culture:
Its diversity : territories, buildings, machines and human beings.
My personal prime spot in the Minett:
The Gaalgebierg park – nature in the heart of my city with its paths, it allows long extended walks and a moment of relaxation in contrast to the activities of the city.
If I had a superpower, it would be:
Transform industrial wasteland into urban spaces with a high quality of life (affordable housing, green spaces, community centres, shops and local workspaces, etc.), while integrating industrial heritage and enriching community life through the integration of the whole population.
The period of history that I would have liked to live in:
At the current time. It is important to me to live in the present moment.
Our partner sites and us are always on the lookout for motivated volunteers of all ages and backgrounds to help. Keen to get involved? Sign up to our volunteers pool.